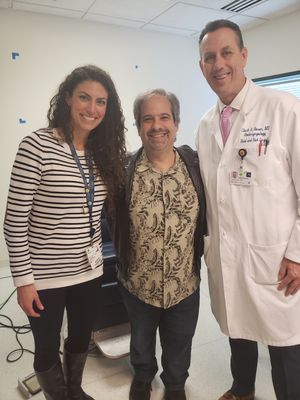 Dear Friends - I am in search of a laboratory for a musical laboratory experiment.  The subject of the experiment is me and you can help provide the lab! 
As many of you are aware, I've been on a combination of partial and total vocal rest since last spring when doctors discovered a lesion in my vocal fold.  Since September, I have been working with a wonderful care team of doctors and speech pathologists at UC San Francisco and am happy to report that the results are positive and my prognosis is good for continuing my singing career without need for surgery.  Dr. Clark Rosen and Sarah Schneider, SLP (pictured here), have given me the green light on slowly starting to perform again and have asked me to do a few concerts before they see me again in mid-February.  Clark and Sarah will then be able to better assess if my vocal health holds up under the performance stress and if I'm ready to really go back to work performing and recording as a traveling singer-songwriter. 
This is very short notice for booking, so I am asking you to help me locate or create some possible venues (or "laboratories").  I will consider almost any gig offer within 200 miles of Davis, CA  (basically Northern California), targeting the weekend on February 1, 2 and 3.  It must be a listening environment, and I can bring a small PA as singing "unplugged" is not an option.  If you have been thinking about hosting a house concert, this would be an excellent time to book one with me, or if there is a venue near you that you think would be appropriate, please let me know as soon as possible.  This is really about getting my voice back up and running!  I am excited to be back to doing what I love, and incredibly grateful to Clark and Sarah (and my earlier local care team) for helping me to heal. 
I am optimistic that, beginning in March, I will be able to start doing more performing and traveling farther afield again.  If you live outside northern California and are interested in setting up a concert, please reach out and email me now at dave@davenach.com.  Nothing would encourage me more than talking with you about coming to your town to play!